"Nothing compares to the simple pleasure of riding a bike."
 — John F. Kennedy
The Bike Whisperer, Andree Sanders, can help you learn to ride – from the most basic cycling skills, to more advanced techniques like shifting gears, riding for fitness, or riding in traffic.
"Nothing compares to the simple pleasure of riding a bike."
— John F. Kennedy, former US President
We can help you learn from the most basic to very advanced lessons about cycling.
The Bike Whisperer is a private, one-on-one coaching service, started in 2011 by New York City resident Andree Sanders. We offer a unique teaching style that incorporates the Balance method, Alexander technique, and a wee bit of brain chemistry, to help people learn to ride. This unique method of teaching has helped thousands of residents learn to ride, and Andree's clients soon gave her the nickname, "The Bike Whisperer".  She has an uncanny way of helping people overcome their personal challenges and become strong riders. We have worked with new residents, new moms, new riders, and even the newly retired – we want everyone to experience the joy and freedom of the wind in your face while on wheels.
Andree is a League Certified Instructor through the League of American Bicyclists and a Level 3 coach with the National Interscholastic Cycling Association.  She has been featured in Vogue, People for Bikes, and The New York Times, among other venues, and also runs the NYC branch of the youth bike organization, Trips for Kids.
Learn to Ride A Bike
This is a fun and friendly class designed for adults and children. Using the Balance Method, known for its low-stress, crash-free success, the pedals are removed, allowing the rider to push themselves until they can coast, teaching the body to balance on two wheels. Once the rider can coast, we re-introduce the pedals and help put it all together.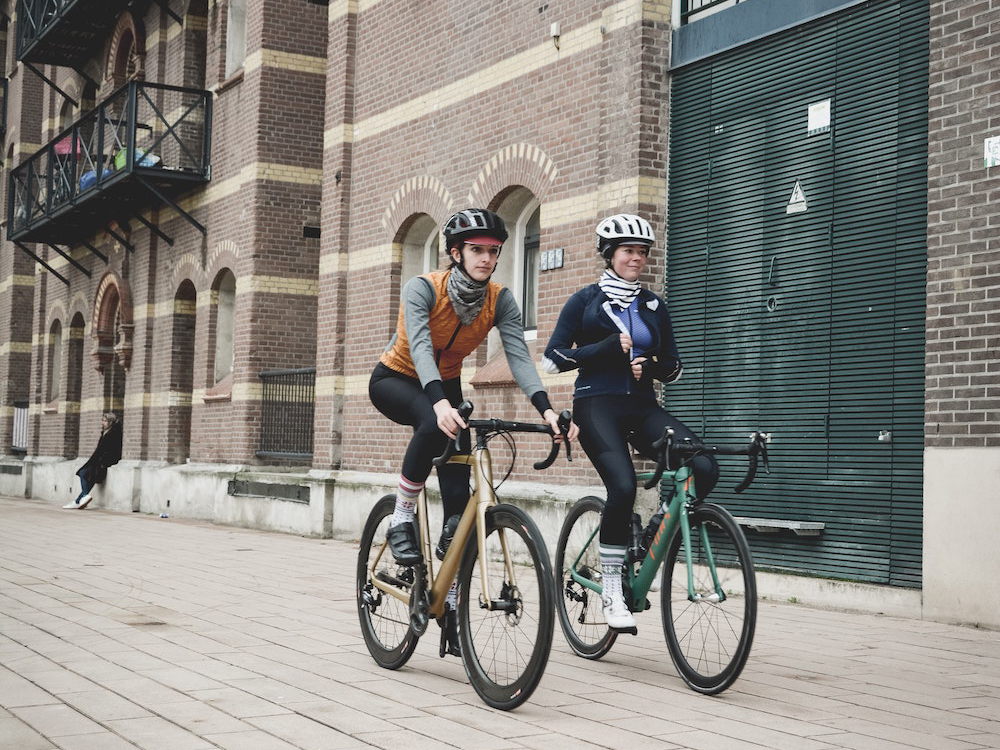 Bike Basic Skills
This class is a follow-up class to Learn to Ride. Once the rider masters balance and can start riding, this class offers a place to hone those new skills – starting/stopping, riding in a straight line, scanning, signaling, turning, and shifting gears.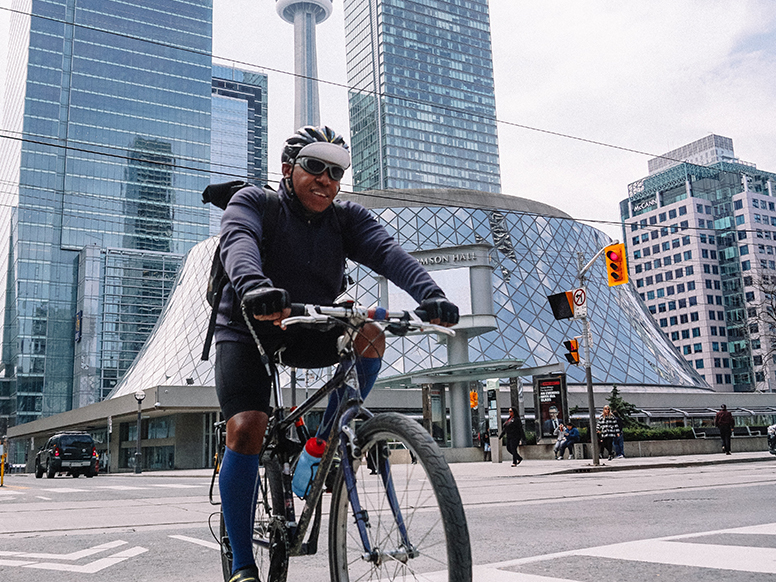 City Riding Skills
This class is to help get riders comfortable getting from point A to point B with the goal of riding NYC streets to get to your destination. We will review basic skills, discuss the rules of the road, map out a ride, and head out!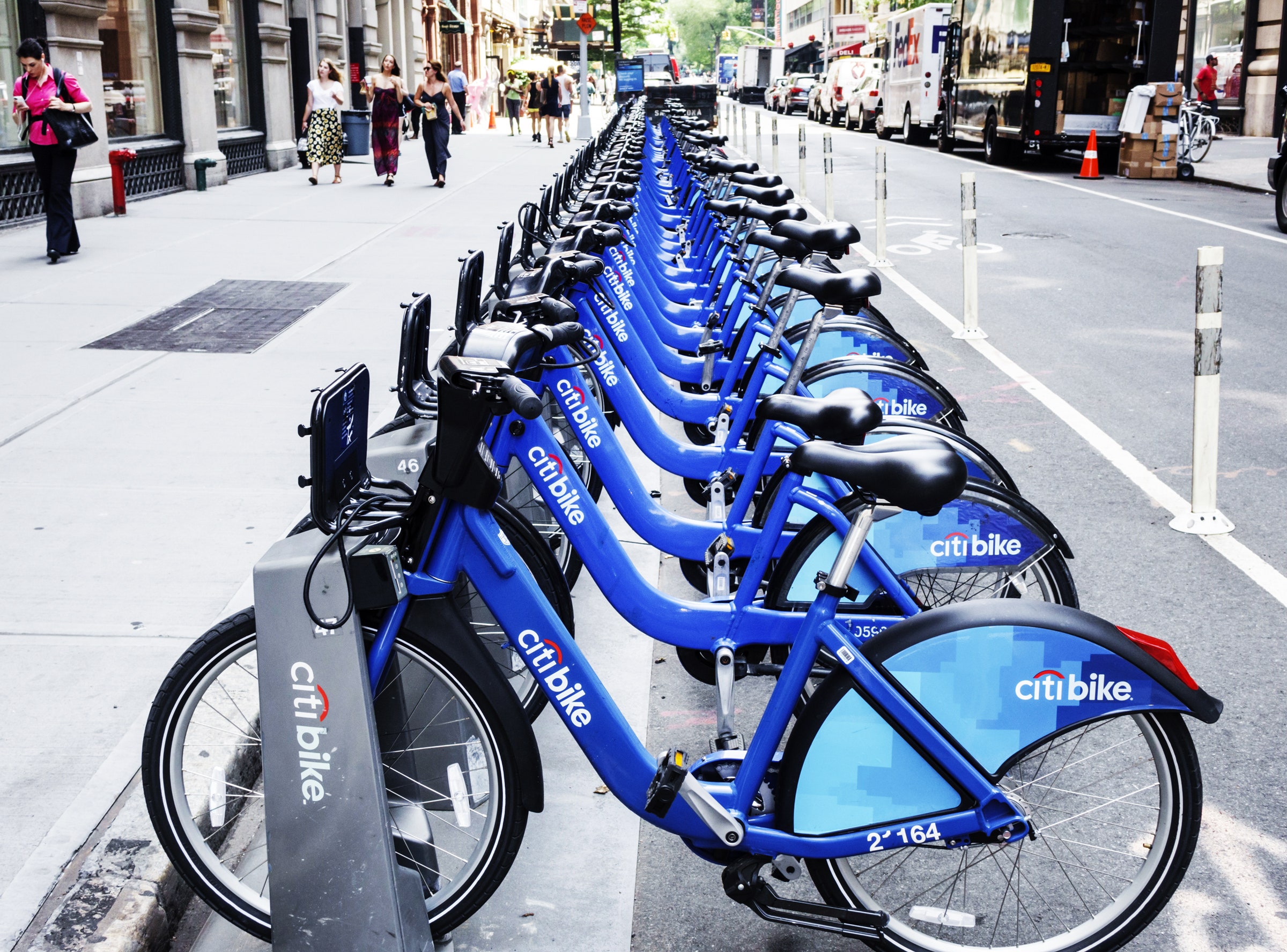 CitiBike Skills
This class is to help riders understand the CitiBike bike share program in NYC. How to reserve a bike, get a code for a bike and set a path to ride. Starting and stopping, navigating and docking are all part of this class. Commuting made easy.
Commuting
One of the fastest ways to navigate NYC. With NYC's infrastructure of over 1000 bike lanes – Commuting is a great way to get to work. Learn how to navigate and map out your ride. Learn about what to wear, Explorer the type of Commuter bag that works best for you, and learn how and where to safely lock your bike. Commuting is good for you and the environment!
Intro To Road Biking
Ready to go further? Want more adventure and challenge? Ready to increase your endurance? Learn the rules of the road, how to pace yourself, what to carry with you to stay hydrated and ready for anything.
intro to mountain biking
Want to try something different? Try riding off road. NYC has many trails to go explore- Come out and lean the 3 essentials of mountain biking and the importance of bike body separation.
"
I have been putting off learning how to ride a bike for YEARS. Not for a lack of wanting to learn, but more so because of the self-imposed embarrassment… Andree made me feel completely comfortable. She was patient and allowed me the room to pick things up at my own pace allowing me to gain confidence and strengthen my riding skills. I can't wait to begin to traverse the city in new ways and finally feel the freedom that the open air of bike life has to offer!
– Emanuel
"
Andree is a fantastic teacher! She knows everything about bikes, from the mechanics of them to the science and psychology of riding one. I'm an adult who never learned how to bike and was always intimidated by it. After a few classes with Andree, I can ride, and it's fun! Recommend the course to anyone looking to learn.
– Dan A.
"
(Age 69 when she took a lesson with me. This is what she had to say!!! )
I decided to take bike lessons because I wanted to do some recreational biking (in the park, and on bike trails upstate). I got your name from Bicycle Habitat. I enjoyed the lessons and I think you're a terrific teacher; would definitely recommend you.
I ended up buying two bikes, one for the city and one for upstate, and have been riding in the park and on bike trails. So it's added another source of enjoyment to my life. I do occasionally use Citibike as well. I was 69 when I did the lessons.
– Alice B
"
Our 5 year old daughter, Riley, had very limited experience on a bike going into her session with Andree. She was very timid on her own bike, which had training wheels, and was resistant to the balance bike which we had tried to get her to use on several occasions. Riley took to Andree immediately. Andree's technique allowed Riley to slowly grow comfortable first with the balance bike, then with one pedal off of a real bike, and then with both pedals off. I literally looked down at my phone and when I looked up Riley was riding the bike without training wheels, and was enjoying it. I couldn't believe it. We left the session with Andree instructing us on how to continue to teach her to stop and start, and we've been working with Riley on that since (and she's actually listening to us!). We highly recommend Andree!
– Mara G. Mother of Riley
"
I reached out to Andree because I wanted to have better command of my new road bike to learn about hand positions, how to shift gears effectively, and to improve my overall form. She worked with me on body positioning, starting and stopping as well as turning. After just one session with Andree, I felt 10xs more confident biking!
– Emma L.
"
Andree has truly earned her title of 'bike whisperer' with my family. She worked separately with my two daughters 3 years apart. Andree successfully taught each of my girls to ride a two wheel bike in one lesson each. After one lesson they had the right safety and confidence foundation. Cheers to Andree for helping my daughters learn to ride! This is a skill they will have for the rest of their lives.
– Char. Mother of 2 daughters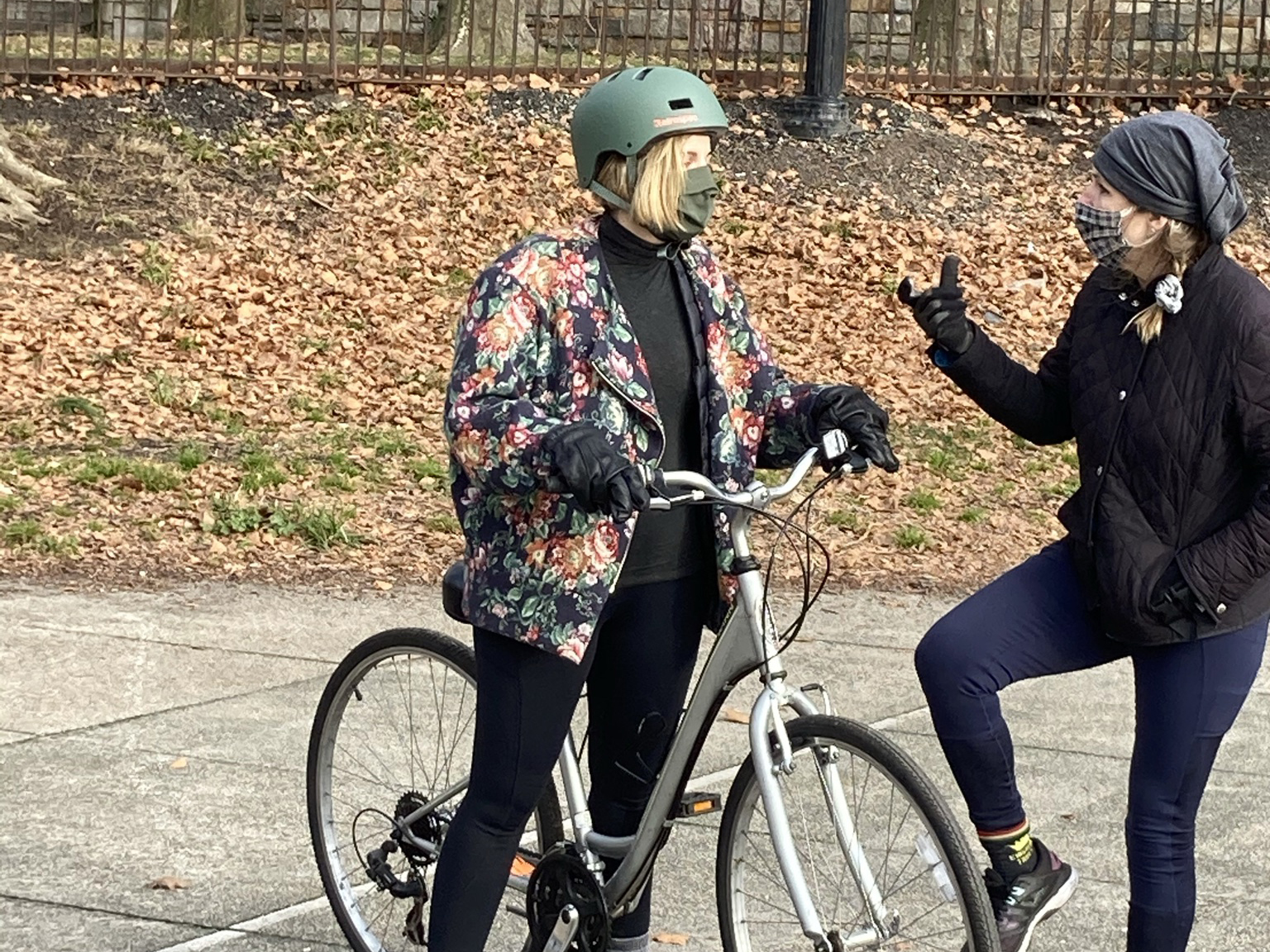 Learning to ride a bike is a bit of a workout- It is a physical and mental challenge
Where are your lesson held?
On the upper West side of Manhattan in Riverside Park
What do I need to bring?
A helmet and a water bottle. If you do not have a helmet, let us know and you can rent one
What happens if it is raining?
Raining cancels and we will need to reschedule
Can I get a discount for multiple lessons?
Yes if you purchase a group of lessons, a discount is available
What should I wear ?
Wear athletic style clothing, sneakers, and depending on the weather dress in layers. In colder weather make sure you have a skull cap and gloves.